.
Best Beginner Yoga Workouts for Weight Loss
Hey ladies!
Looking for the best beginner yoga workouts can be VERY confusing…
Additionally, there are lots of questions you will have:
   – What kind of yoga is best for losing weight?
   – How quickly can I lose weight and get healthy?
   – Is this instructor even any good?
You probably know that you want to get started with yoga, but are simply OVERWHELMED by the endless options and choices.
Well, this is exactly why I have looked around for you.
I looked at programs based on price, instructors, organization of content.
Here are the 5 Best Beginner Yoga Workouts for Weight Loss:
1. 

The Yoga Fat Loss Bible for Beginners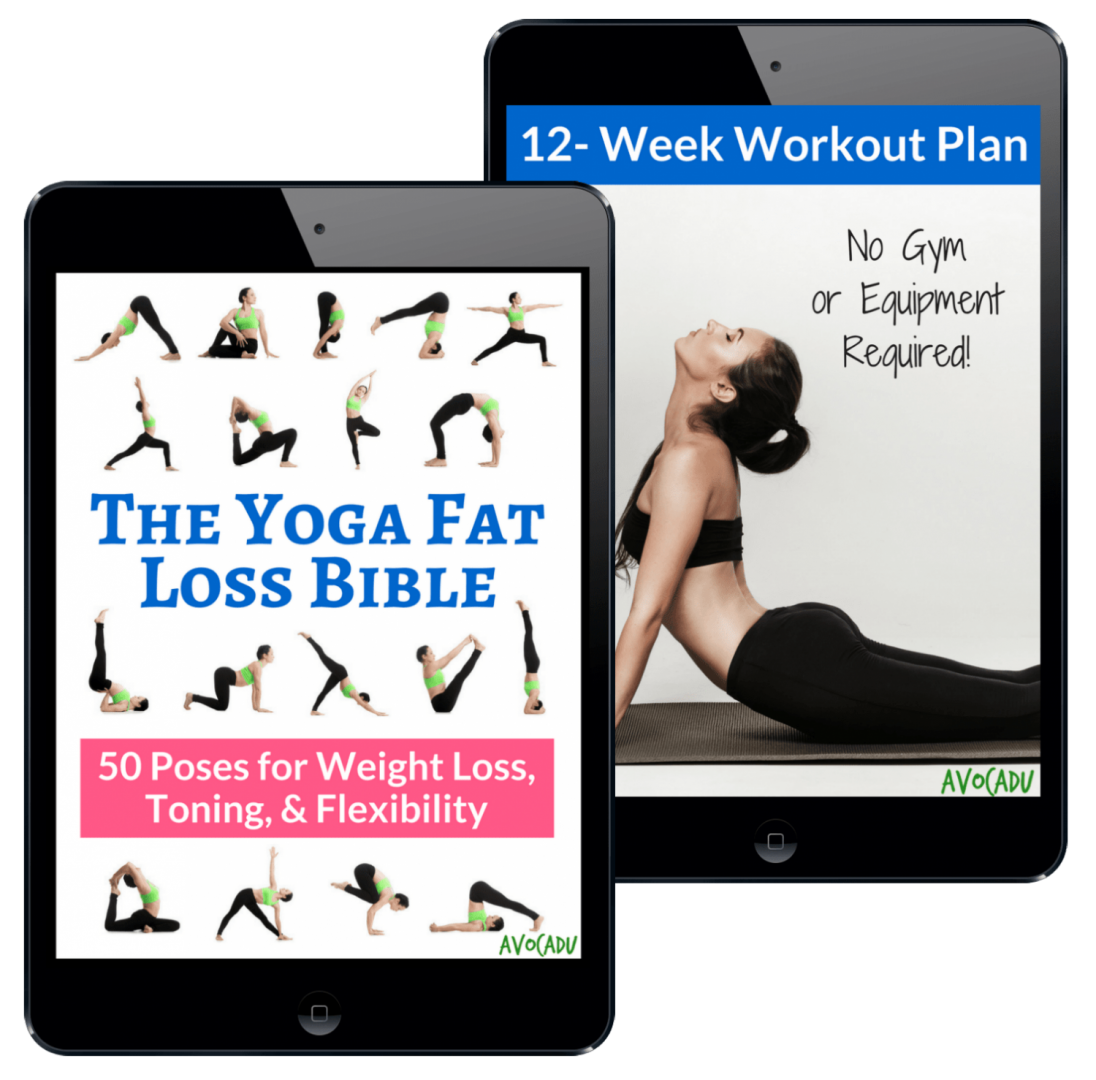 Who it's for: 
This e-book is for anyone looking to melt fat away with yoga! Whether you're a complete beginner or a little more advanced, this book comes with 50+ yoga poses, a flexibility guide, a meditation guide, diet tips, and a 12-week workout plan.  It really is all-encompassing, and that's why we've listed it at the #1 spot.
Who it's not for:
Really advanced yogis.  The program has a good amount of advanced yoga poses to help challenge you and give you goals to work towards, but if you are extremely flexible or working on a very advanced practice, this may not be right for.  It was made to be perfect for beginner and intermediate yogis!
Click here to see it on Avocadu's website.
Who it's for: 
Even if you're not a Jullian Michael's fan, this is really a great yoga workout for those of you who really want to feel the burn It's circuit interval training so you will work up a sweat and walk away feeling pretty pooped when it's over.
Who it's not for:
If you're looking for a gentle yoga practice that highlights specific yoga moves, this is not the Yoga workout for you. I would say that you should be in ok shape and have attended a few yoga classes before trying this workout. It's still amazing for beginners, but could be overwhelming if you're brand new or in terrible shape.
Click here to see it on Amazon.
Who it's for: 
If you're over the age of 50 or are dealing with any disabilities, ailments, or extreme weight issue, this is the PERFECT yoga workout. Peggy is an amazing teacher who focuses her beginner workouts on building strength, balance, and yes, helping you lose a few pounds. Her gentle practice is perfect for those just starting out and looking to work on the basics!
Who it's not for:
If you're younger and looking for a faster paced practice, this is not the workout for you.
Click here to see it on Amazon.
Who it's for: 
This is a great program for those completely new to yoga and looking for a butt kicking. It's not a circuit training workout like Jillian' and spends more time emphasizing proper yoga technique and form. Bob Harper gives great instruction and you will learn a lot about yoga WHILE losing weight.
Who it's not for:
Bob gives lots of instruction which we think is a good thing, that being said, he will talk you through a lot of routines. If you're looking for a quieter and more "spiritual" practice, this is not the right workout for you.
Click here to see it on Amazon.
Do you find yourself needing lots of workout variety and new exercises to keep yourself entertained enough to stick with a program? If so, then this is the right practice for you. It's the complete season of workouts for Namaste Yoga and will help you start you practice, lose weight, and provide you with plenty of different workouts to try.
Who it's not for:
If you're on a really tight budget right now, look to the other workouts as with this program you have to pay for the entire season in full.
Click here to see it on Amazon.
With yoga, remember to always listen to your body and how it's responding.  What's right for you won't necessarily be what is right for everyone else.  I encourage you to try out various workouts and stick with what works for you!